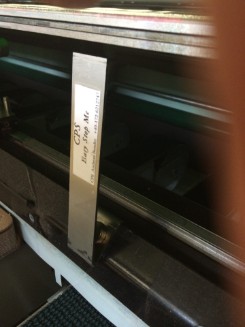 CPS-Easy-Stop-MC
Deutsch:
Der CPS Easy Stop-MC ist ein, patentierter, Bogenanschlag
für die Auslage der Bobst Mastercut.
Er verhindert das "Springen" der Zuschnitte hinter die
Führungen und ermöglicht die Benutzung
der hinteren Bogenunterstützung.
Er wird von außen in die Maschine eingebracht und
kann ohne Probleme mit den seitlichen
Bogenanschlägen, per Matic,
verschoben werden.
Das Teil kann bei CPS bezogen werden
unter der Teilenummer No. 12
CPS-Easy-Stop-MC-ger-09-14.pdf
Download
English:
The CPS Easy Stop-MC is a, patented,
sheet stop for the stacker of a
flatbed diecutter Bobst Mastercut.
It prevents the "jump" of the sheets
behind the machine guides and
makes it possible to use the rear sheet
support of the machine.
It is introduced into the machine from outside and
can be moved without problems with the motorised side
strokes of the machine.
The part can be obtained by CPS under part No. 12
CPS-Easy-Stop-MC-eng-09-14.pdf
Download