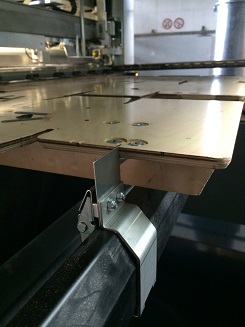 CPS-SilcApart
Deutsch:
Der CPS-SilcApart ist eine
gemeinschaftlich, geschützte,Neuentwicklung
von Silcoplan Engineering und CPS.
Er ist eine universelle Trennleiste
am unteren Ausbrechbrett
für BOBST Flachbettstanzen
der Serien 160, 203 und Mastercut,
weitere Modelle auf Anfrage.
Auf effiziente Weise wird er
in die Maschine eingebracht,
trennt verlässlich Standard
und überdimensionale seitliche Abfallbreiten.
Probleme mit verbogenen oder nicht eingebauten Standard Trennlinien
gehören der Vergangenheit an.
Ein Satz besteht aus einem Halter und 3 unterschiedlichen Trennleistenlängen.
Das Teil kann bei CPS bezogen werden unter der Teilenummer:
No. 15 für Mastercut 1.7 / 1.7 RH / 2.1 / 2.1 RH
No. 16 für SPO 203 A / A-Matic / A-PR-Matic
No. 17 für SPO 160 A / A-Matic / A-PR-Matic / 160-S / 160-Vision
CPS-SilcApart-ger-07-15.pdf
Download
English:
The CPS-SilcApart is a community, protected, development of
Silcoplan Engineering and CPS.
It is a universal splitter on the female stripping form
for BOBST flatbed diecutters the series 160, 203 and
Mastercut, more models on request.
On the efficient way, it is introduced into the machine, reliably separates
standard and oversized side waste.
Problems with bent or non installed standard separators belong to the past.
One set consists a holder and 3 different cutting edges.
The part can be obtained at CPS under part Number:
No. 15 for Mastercut 1.7 / 1.7 RH / 2.1 / 2.1 RH
No. 16 for SPO 203 A / A-Matic / A-PR-Matic
No. 17 for SPO 160 A / A-Matic / A-PR-Matic / 160-S / 160-Vision
CPS-SilcApart-eng-07-15.pdf
Download